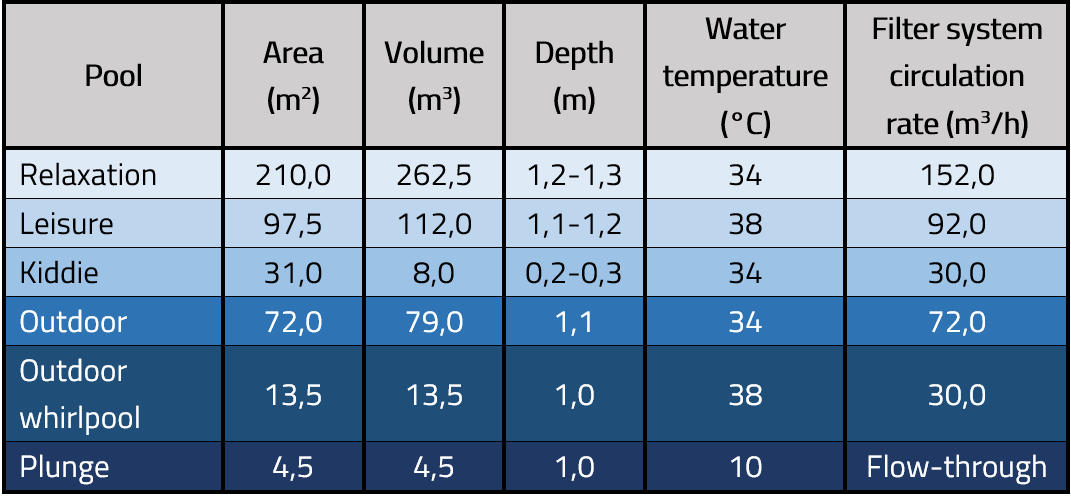 The dominant feature of the water park is a Relaxation Pool with swimming lanes and water attractions such as wild river, rocking bay, waterfall jets, air-massage benches and hydromassage jets.
As the name suggests, it is the Leisure Pool that induces a total feeling of relaxation and wellbeing with the air massage beds and benches, bottom bubblers and hydromassage jets, providing a healing massage to different body parts. The pool also includes a foot massage and waterfall jets. Another distinctive feature is a fit bar with a special design waterfall.
The Kiddie Pool attracts kids to playing with water and enjoy a whale waterslide, a bear waterslide made from stainless steel, a hippo spout attraction, a hedgehog and water fountains.
The Outdoor pool offers a leg massage and relaxation on air-massage benches or a muscle massage with waterfall jets.
The outdoor whirlpool spa includes relaxing air-massage seats, an air bubbler and hydromassage jets.
Adjoined to the outdoor whirlpool area is a Plunge Pool that is part of the wellness zone.
The pools and the whirlpool spa are equipped with colour underwater lights, creating a relaxing and soothing atmosphere.
The fun and thrill seekers may enjoy two spectacular water slides, having a recirculating water treatment system of their own.
The services rendered by INOX SERVIS for this project included the design, delivery and assembly of the pool equipment, meeting the latest standards of innovation and cost-efficiency. The equipment such as a unique chlorine generation system, high-efficiency pumps or automated dosing system for activated carbon to eliminate bound chlorine fully meet such requirements. The above services were rendered by INOX SERVIS for BERNDORF BÄDERBAU under a pertinent contract.